November 03, 2021
"To eat from a sustainable source where the fish welfare is maintained gives great taste with good conscience." Per Helge Devold / CMO
INTRODUCTION TO SUSTAINABILITY IN MMC FIRST PROCESS
MMC First Process is a world-leading manufacturer of fish handling equipment for customers in the wild-catch, aquaculture industries. For MMC First Process, now as ever, sustainability means safeguarding the welfare of the fish during handling and reducing wastage. To maintain the highest quality, we always seek to ensure that the conditions for live fish passing through our systems are as good as possible. We also do our best to minimise waste and maximise the amount of the fish that ends up on the dining table or is processed for other nutritional purposes.
In practical terms, our approach starts with Fish Welfare Design Thinking and continues through manufacture and deployment of equipment to training our customers in the efficient and sustainable use of our systems. In every part of the production chain, the top priority is the welfare of the fish. We always try to make sure that they suffer as little stress and injury as possible in transit, by using techniques that range from the extensive use of sensor technology to making minor adjustments to the sheet metal work in a transport tunnel to avoid protrusions.
We interact with our customers on an ongoing basis to obtain feedback that helps us to continually improve our products and improve fish welfare and sustainability. This joint approach helps to create a more sustainable fishing industry, where we can be proud partners and our customers' success is also our success.
Our approach in MMC First Process is underpinned by our cultural background on the west coast of Norway. Our heritage is bound up in the resources of the ocean and we feel instinctively that our future depends on it. At a time when the sustainability of ocean resources is a world priority, MMC First Process is willing to take up the challenge and play its full part in ocean husbandry. We want sustainable management of marine resources to be at the core of our legacy.
Our contribution is to ensure that the fish caught in the ocean or farmed in the fish pens is treated decently and with as little waste as possible, so that as much as possible goes to human consumption. The choices we have made in formulating this strategy are based on our mission, which is to: Enable our customers to become the best in the world at managing the sea's most important food resources effectively, sustainably and carefully.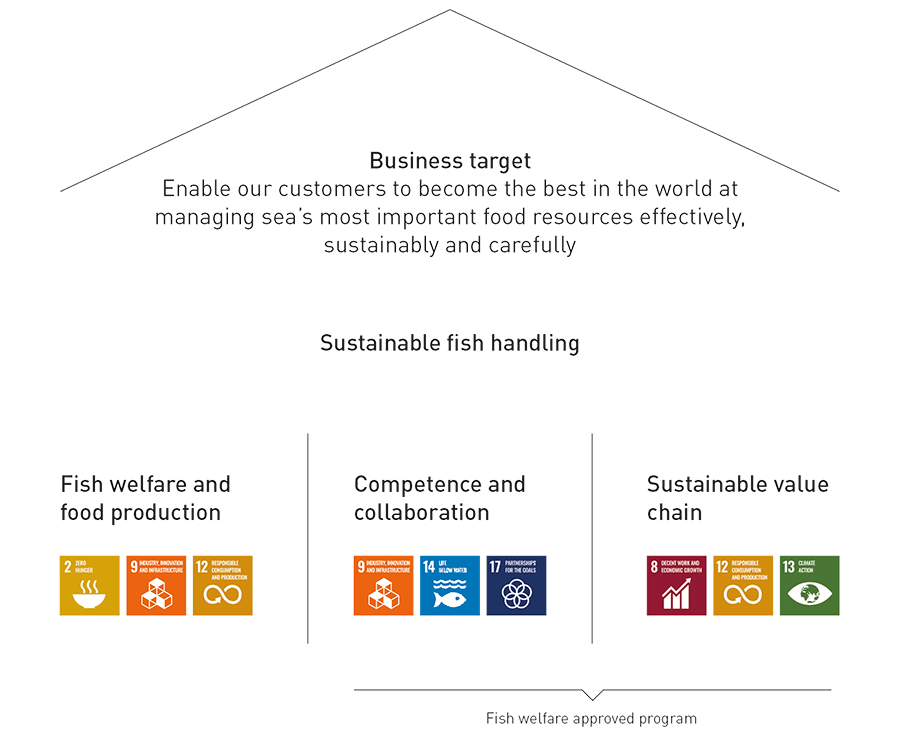 Strategy
Transforming the seafood industry by offering complete and sustainable system solutions for the handling, processing and cooling of fish for the seafood industry

WHAT IS OUR FOCUS?
There are many sustainability themes that are applicable to MMC First Process. By carefully analysing our stakeholders' priorities through a materiality assessment we have selected key themes where MMC First Process can have the greatest impact. By focusing on a select number of themes we can maximise our impact on the sustainability goals.
For each theme, we have defined clear objectives to focus our efforts and have chosen methods to measure our progress. All initiatives and change processes are prioritized, based on their ability to influence progress as defined by the measures chosen.